Maximo Integration Support
Esri ArcGIS and IBM Maximo Spatial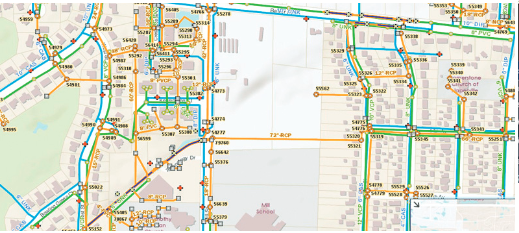 Esri's ArcGIS platform into the Maximo architecture, leveraging in-place security, deployment capabilities, and scalability. The result is a nondisruptive and highly ef-ficient enterprise solution.
AssetOne integrates your enterprise Esri ArcGIS system with IBM Maximo Asset Management, with unparalleled ease and functionality, both for the implementers and the users. A seamless user experience provides access to dynamic geographic information system (GIS) functionality from within the Maximo environment. Also Elimination of data duplication creates a more accurate and timely view of overall operations. It's Map-based communication provides new insights and creates ef-ficiencies in business processes. This integrated GIS functionality provides access to data held within the organization and by outside agencies. IBM Maximo Spatial integrates
BIM (Building Information Modelling) Integration

The integration of the BIM application data with Maximo provides rapid access to the latest plant data and accurate information for planning and estimation, ultimately leading to reduced time in work order management, Planning and maintenance of plant's resources. BIM and Maximo integration are completely based on COBie (i.e., Construction Operations Building Information Exchange) data, which is an information exchange specification for the life-cycle capture and delivery of information needed by facility managers. COBie can be viewed in design, construction and maintenance software as well as in simple spreadsheets. This versatility allows COBie to be used all projects regardless of size and technological sophistication.
AssetOne can help you to process of loading COBie information into Maximo can be complex, time consuming, and may introduce errors. AssetOne's has invested significant time in researching finest details needed to make BIM integration with Maximo successfully work with BIM Forge viewer to view Plant Assets and Locations in 3D. It does require deploying custom classes, installing and configuring Maximo and integrating Maximo with onto the Autodesk Cloud for 3D views.